USS Rodman
Index of Allied warships during Operation Neptune
History, technical sheet and photo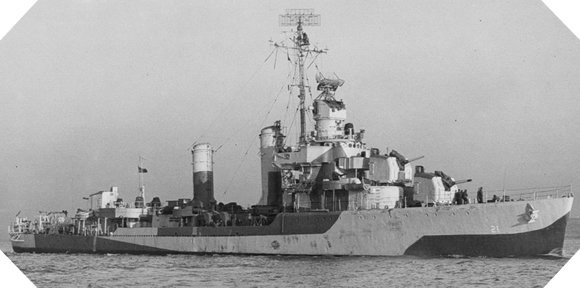 USS Rodman history
The USS Rodman was launched on 26 September 1941 and entered service on 29 April 1942. After a series of offshore training, it conducted patrols and convoy escorts in the North Atlantic and the North Sea with the British navy.
In November 1942, it took part in Operation Torch off Morocco in Task Group 34.2 in favor of Task Force 34, then escorting new convoys in the Atlantic, Channel and North Sea. On November 3, 1943, it escorted President Franklin D. Roosevelt to the Tehran conference aboard the USS Iowa.
In the spring of 1944, it was deployed in the Mediterranean sea within Task Group 80.6 to fight German submarines in this region. On 18 May it made its way to Great Britain to participate in Operation Neptune.
Integrated with the naval force O, it escorts the warships and troop transports to Omaha Beach on the night of June 5-6. On D-Day at dawn, it participated in Task Group 122.4 in the bombing of the German positions and realized a fire support for the American land forces until 16 June and then refitted in Plymouth. It was again engaged along the Normandy coast from 21 to 24 June and was called in reinforcement within the Task Force 129 to take part in the bombing of the coastal batteries of the city of Cherbourg.
In July, it joined the Mediterranean sea in order to be involved in Operation Dragoon, the landing of Provence, south of France. Returning to the United States in October 1944 to be transformed into a minesweeper, it was engaged in the Pacific fighting from 12 March 1945 and participated in Operation Iceberg and then in the Battle of Okinawa. During a raid of Japanese kamikazes launched on April 6, the USS Rodman is hit by one of them: the destroyer suffers sixteen missing and twenty wounded in its ranks. Nevertheless, the destroyer is operational and it witnesses the destruction of USS Emmons.
Returning to the United States, it was deployed after the war in the Mediterranean sea in the 6th American fleet before being retired from service on July 28, 1955. Transferred the same day to the Navy of the Republic of China, it was renamed Hsien Yang. Used until 1969, it was returned to the United States and demolished as of 1 November 1972.
USS Rodman technical sheet
Creator/User: United States of America
Denomination: DD 456 – U.S.S. Rodman
Class: Gleaves-class destroyer
Crew: 276 sailors
Armament (1944): 5x 127 mm guns, 6x 20 mm Oerlikon guns, 6x 12,7 mm Browning machine guns, 10x 533 mm torpedo tubes
Displacement: 1,630 tons
Speed: 37,4 knots
Length: 106,15 m
Beam: 11 m
Draught : 3,61 m