Bren light machine gun
History, technical sheet and photo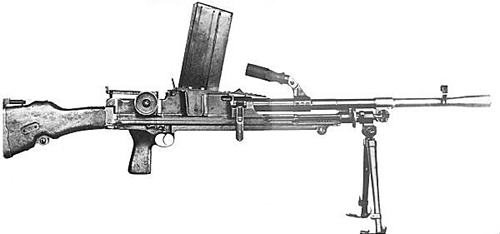 Bren light machine gun history
As tensions in Europe became more and more important on the political scene, the British wanted to have a new machine-gun of modern support for its infantry from 1937 onwards. The weapon creation studies began the same year and the first prototype of the Bren Mk I machine gun was produced at the end of 1937.
Very quickly, the British infantry, which is gradually endowed with this Bren machine gun, gives advice to the British military engineers to improve this weapon. The main criticism is that the loader capacity is too low.
But the Bren Mk II is still one of the best machine-guns in its class, easily installed on most vehicles used by the British army and offering a high firepower to its users.
Bren light machine gun specification
Creator/User: Britain
Denomination: Bren .303 Mk II
Fire mode: automatic
Caliber: .303 British (7,7 mm)
Feed system: 30-round magazine
Effective firing range: 550 m
Maximum firing range: 1,700 m
Rate of fire: 500 rounds/min

Weight: 9,96 kg
Length: 1150 mm