Flamethrower, portable, N°2 – Lifebuoy 
History, technical sheet and photo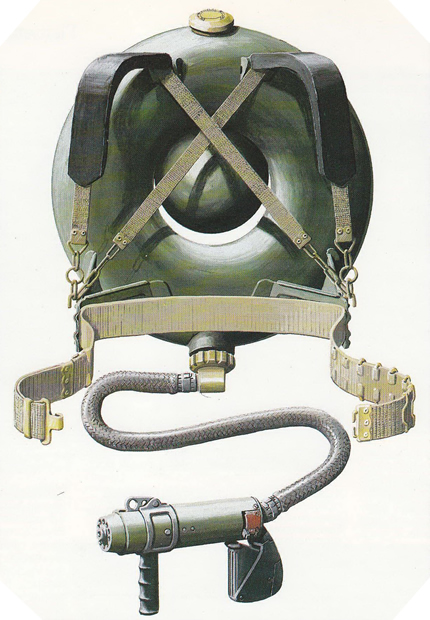 Flamethrower, portable, No 2 Lifebuoy history
At the beginning of the Second World War, the British sought to equip their army with an efficient flame-thrower. To this end, the British engineers are largely inspired by an already existing German model, the Wechselapparat, nicknamed "Wex" and dating from 1917.
Two models were created: the Mark I (used for the exercises) and the Mark II (dedicated to combat). The production of this flamethrower, whose official name is "Flamethrower, Portable, No. 2", began in 1943 and delivery to the units took place in 1944, just before Operation Overlord was launched.
The Mark 2 portable flamethrower consists of a lifebuoy shape tank (which soon earned him his nickname "Lifebuoy") with a capacity of 18.2 liters and containing diesel, as well as Of an oval-shaped reservoir containing nitrogen. The pistol grip allows the shooter to make 10 shots lasting a maximum of 10 seconds: it consists of two trigger tails: one for throwing fuel and the other for triggering fire.
The English flame-thrower was used throughout the Second World War and especially during the Battle of Normandy. He was retired from active service shortly after 1945.
Flamethrower, portable, No 2 Lifebuoy specification
Creator: Britain
Users: Commonwealth
Denomination: Flamethrower, portable, No 2
Nicknames: "Ack Pack", "Lifebuoy", "Sombrero"
Number produced (1943-1944) : 7,000
Loaded weight: 29 kg
Fuel: 18.2 liters of gas
Maximum firing range: 36,5 m (40 yards)
Effective firing range: 27,4 m (30 yards)
Duration: 10 seconds