Lee-Enfield N°2 Mark I
History, technical sheet and photo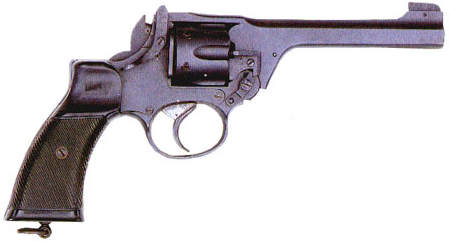 Lee-Enfield N°2 Mk 1 history
The design of the Enfield Mk I pistol is inspired by the Webley Mark VI pistol, already in the British Army, but which the British want to replace.
The Enfield Mk I pistol was produced between 1926 and 1927 by the Royal Small Arms Factory located in Enfield, Great Britain.
The Enfield Mk I, equipped with a six-barrel barrel, entered service in the British Army in 1932.
A new model is also produced from 1942, denominated Enfield Mk I **. The main modification is that the weapon is easier to use and maintain.
Lee-Enfield N°2 Mk 1 specification
Creator/User: Britain
Denomination: Lee-Enfield Mk 1**
Fire mode: Bolt-action
Caliber: .303 Mk VII SAA Ball (9,65 mm)
Feed system: 6 round-magazine

Weight: 0,765 kg
Length: 258 mm