M1 bayonet
History, technical sheet and photo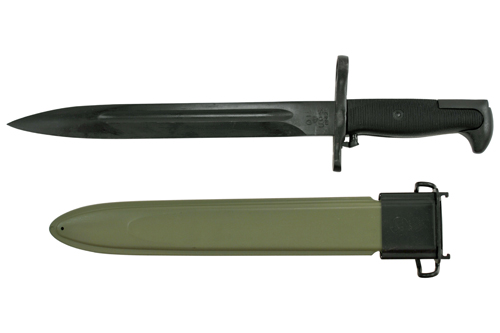 History of the M1 bayonet

In 1943, when the United States gave its soldiers the M3 combat knife, a project to renew the M1905/1942 bayonet was launched. A new model whose blade is shorter than its predecessors is developed and production begins immediately. The M1905/1942 bayonets are recalled at the factory and their blades are shortened. The new bayonets have the name M1 whereas the modified M1905 are called M1905E1.
The M1 bayonet is compatible with the Garand and M-1903 Springfield rifles. It was manufactured from 1943 to 1945 by UFH (Union Fork and Hoe), PAL (PAL Blade Company), AFH (American Fork and Hoe), UC (Utica Cutlery) and OL (Oneida Limited).
These bayonets were deployed for the first time during the Battle of Normandy in June 1944. They were also used on the Pacific front and opposed to the long Japanese bayonets-swords: many American soldiers chose to keep the old model M1905 in order to fight on equal terms.
The M1 bayonet is also used after the Second World War during the Korean War. It was replaced in 1953 by the M5 model.
Specifications of the M1 bayonet
Creator/User: United States of America
Denomination : M1 bayonet
Total length: 508 mm
Blade details

Length: 406,4 mm (16 inches)
Haft details

Length: 101,6 mm (4 inches)