M1942 bayonet
History, technical sheet and photo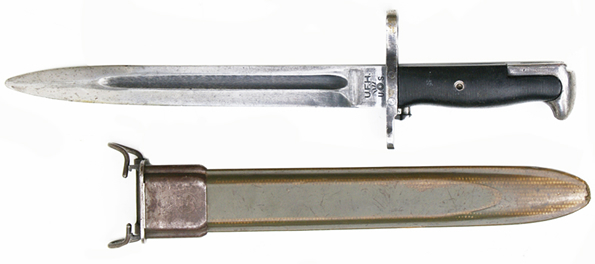 History of the M1942 bayonet
With their entry into the war in December 1941 and the development of the Springfield and M1 Garand rifles, the Americans want to renovate the M1905 bayonet, which is still in wood. They choose to add plastic to it but do not modify its other characteristics.
This new model is called M1942. In 1943, in order to equip the Garand M1 rifle, the M1905 is shortened by 4 inches: this modified bayonet is called M1905E1. The model M1942 has a blade much longer than other bayonets, which is not unanimous in the American armies. The M1942 bayonet proves very useful on the battlefields of the Pacific.
Indeed, it is particularly appreciated in the Pacific where the Americans fight Japanese soldiers equipped with a bayonet-sword much longer than the M1 bayonet.
Specifications of the M1942 bayonet

Creator/User: United States of American
Denomination: M1942 bayonet
Total length: 508 mm
Blade details

Length: 406,4 mm (16 inches)
Guard details

Length: 101,6 mm (4 inches)