Mauser C96 Mod. 711-712 pistol

History, technical sheet and photo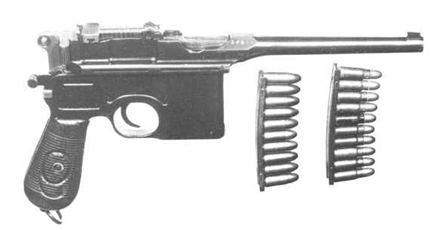 Mauser C96 711-712 pistol history
The C96 pistol began to be produced in 1896 and entered into the German Army during the First World War. Used on many battlefields and developed under license by several countries like China or the Soviet Union, the Mauser C96 is gradually doing its work.
Winston Churchill, who served at the beginning of the 20th century as a soldier in the British Army's expeditionary forces, was armed with a C96 pistol during his campaigns and explained, in particular, "this weapon has saved my life several times".
In 1932 German engineers decided to create new models of the C96 pistol, referred to as models 711 and 712. The weapon is equipped with a shooting selector for semi-automatic and automatic (burst) modes, located on the Left side of the gun.
The automatic mode has a very high rate of fire (1,000 rounds per minute), but because of its high weight (1,3 kilos) and difficult reloading, the Mauser C96 mod. 711 and 712 are only scarcely distributed in the German army during the Second World War and the Battle of Normandy.
Mauser C96 711-712 pistol specification
Creator/User: Germany
Denomination: C96 mod. 711-712 (1932)
Fire mode: semi-automatic and automatic (burst mode)
Caliber: 7.63×25mm Mauser
Feed system: 10 round-magazine / 20 round-stripper clip
Effective firing range: 150 m
Rate of fire: 1,000 rounds/min (automatic mode)

Weight: 1,3 kg
Length: 298 mm