MG 08 machine gun (Maschinengewehr 08)
History, technical sheet and photo
MG 08 machine gun history
The Deutsches Heer, German army, wants to adapt for its infantry the machine-gun MG 99 developed by Maxim in 1899 and used by the Imperial Navy, as well as the MG 01. Technical evolutions aimed in particular to lighten the weight of the weapon give Birth in 1908 to a new model that is selected.
Made of steel, this machine-gun manufactured by Maxim is water-cooled and has a firing rate of up to 500 rounds per minute. The tank contains four liters of water, which is enough for a shot of 2,000 to 2,500 rounds.
Widely used during the First World War, it is particularly robust but has a major flaw: the water vapor released by the overheating of the radiator indicates very clearly the position of the shooter, especially in winter. The new model was renamed in 1915 (including the reduction in weight due to repeated requests from the infantry). The new model is called MG 08/15 and is one of the first German light machine guns. A flame arrester is added to the MG 08 from 1916.
During the period between the wars, no fewer than 17 foreign armies bought this machine gun, especially from Belgium, the Netherlands and Yugoslavia. Copied by Great Britain, the United States and Russia, the MG 08 is also manufactured by China under the name Type 24.
When the Second World War broke out in Europe, this machine gun was particularly aging. However, it remains in a fixed position, particularly along the Atlantic Wall support points.
MG 08 machine gun specification
Creator/User: Germany
Denomination: MG 08
Fire mode: automatic
Caliber: 7.65×53mm
Feed system: 250-round fabric belt
Rate of fire: 550 rounds/min
Gun body weight: 26.4 kg
Loaded weight: 69 kg
Length: 118 cm
Barrel length: 68 cm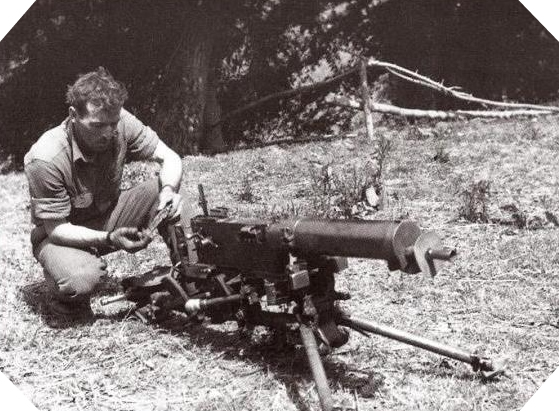 Above: During the battle of Normandy, first-class soldier Arland "Pappy" Fry, a weapons specialist belonging to company A of the 377th Parachute Field Artillery Battalion inspects an MG 08 machine gun on a tripod abandoned by the Germans in the commune of Catz located east of Carentan in the English Channel.
Photo: US National Archives