Model 24 Stielhandgranate "Potato Masher"
History, technical sheet and photo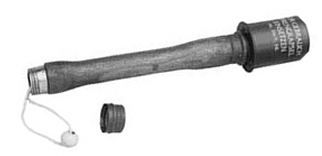 Model 24 Stielhandgranate history
Produced in 1939, the grenade Stielhandgranate 24 (nicknamed "potato masher" because of its form) between the same year in endowment in the German army.
This grenade does not resemble – structurally – its European or American counterparts, for the German military decides to rely on the destructive power of TNT, rather than on the effects of metallic shards of conventional oval grenades.
Thus, the Stielhandgranate 24 consists of virtually twice as much TNT as the 36 British Mills grenade, despite the high cost of this explosive during the Second World War.
The explosive is compacted in a cylinder that fits into the top of a wooden handle. Users can thus place different types of explosives, while keeping the same handle.
Model 24 Stielhandgranate specification
Creator/User: Germany
Denomination: M24 Mod. 1939
Type of grenade: offensive/defensive
Detnoation mecanism: Remove a protective cap and pool a porcelain ball that drives the rope, which is connected to the timer
Time delay: from 4 to 5 seconds
Filling: 165 grams of TNT
Weight: 0,48 kg
Length: 356 mm
Diameter: 70 mm