SdKfz 302 Goliath tracked mine

History, technical sheet and photo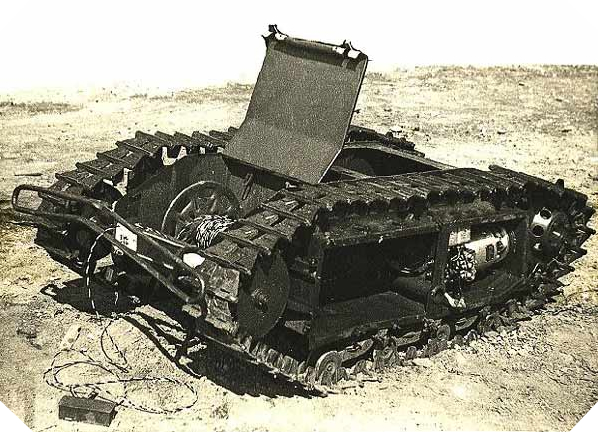 SdKfz 302 Goliath tracked mine history
When the Germans invaded France in 1941, they discovered the prototype of a French miniature tracked vehicle developed by engineer Adolphe Kégresse. This discovery gives them the idea of ​​creating a tracked craft controlled remotely and capable of carrying about fifty kilos of explosives.
The military engineers thus developed the "Goliath", guided and equipped with a capacity to carry 60 kilos of explosives. In the spring of 1942, he joined the engineering units and some cavalry units to destroy tanks, civil engineering structures or other resistance points. The Goliath can be operated remotely with a cable length of up to 650 meters connecting the tracked vehicle to a control shelf: it moves to its lens with an electric motor and the explosion of the load is triggered at the command of the user.
A second version of the Goliath (SdKfz 303) is also produced by Germany, which is heavier (430 kg) and has a petrol engine (Zundap SZ7) more reliable than the electric motor, Explosives of 100 kg.
Engaged along the Atlantic wall to protect the coasts against an allied invasion, Goliaths are found along the Normandy coasts and analyzed by the allied specialists of the armaments. Numerous copies were also used during the Warsaw insurrection, from August to October 1944.
Very slow, very expensive (3 000 Reichsmark units) and very fragile, the Goliath is not yet ready: the cables break, the shielding is not sufficient and its capacity of crossing remains limited, the vehicle Tracked is often blocked by simple natural obstacles. Nevertheless, this is an important technological advance in the field of military drones.
SdKfz 302 Goliath tracked mine specification
Creator/User: Germany
Denomination: Leichter Ladungsträger Goliath – SdKfz 302 Goliath
Number produced (SdKfz 302 and 303): 7,564
Unloaded weigth: 365 kg
Carrying capacity : 60 kg of explosives
Speed: 9,5 km/h
Length: 120 cm
Width: 61 cm
Height: 30 cm