Calendar of military reenactment camps in 2024 in Normandy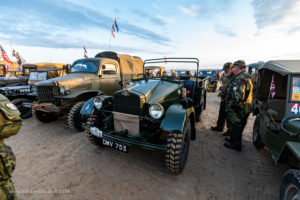 This page presents the calendar of the various military reenactment camps in 2024 organized to mark the 80th anniversary of D-Day and the Battle of Normandy.
This program is currently under construction. If you would like your military camp to appear, please send me an e-mail here.
Crossbow reenactment camp – Stade, 50690 Virandeville
All day: presentation of an American military reenactment camp. Free admission.
Organized by ANCM 44.
"Dog Green" reenactment camp – 14710 Vierville-sur-Mer
Journée : World War II allied camp, vintage vehicles, military vehicle ride, commemorations, convoys, parades, etc.
Organisation: UNIVEM. Information and inscription: dday2024@univem-paris.fr