The Southwick House Park Command Post for sale
September 10th, 2016: The Southwick House Park Command Post for sale
Author: Marc Laurenceau
The British Ministry of Defense now offers thirteen historical sites for sale, as part of the project to reduce the number of infrastructures it currently owns. The ultimate objective is to reduce its housing stock by 30% by 2040 in order to reduce its maintenance costs. Among the sites put up for sale: Southwick House Park. The land on which this superb property dating from 1800 is located is located near Portsmouth.
In 1940, the owners granted the right to the Royal Navy to use the rooms for the benefit of pupils of the Royal Navy School of Navigation, who board the HMS Dryad. In 1941, after severe bombardment of the Portsmouth shipyard, many dwellings for the sailors were destroyed: the Royal Navy then requisitioned Southwick House to accommodate all the personnel of the HMS Dryad. In 1943, this building with large rooms, ideal for the needs of a staff, was chosen to serve as an advanced command post at the Supreme Headquarters Allied Expeditionary Force (SHAEF), the Supreme Command of the Allied Expeditionary Forces led by American General Dwight D. Eisenhower. In 1944, Soutwhick House became the headquarters of the SHAEF. During the landing and the battle of Normandy, one of the rooms is used to display a large map of wood veneered against a wall, representing the south of England, the English Channel and the north of France. This wall map is still in place today, portraying Operation Neptune on June 6, 1944.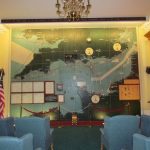 Operations Room of Southwick House, where the reconstructed wall map to represent operations dated June 6, 1944 is still visible.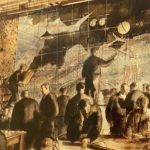 Southwick House Operations Room – IWM
For the anecdote, the two English workers in charge of installing the map were ordered to install a wall map representing the western front of Europe from the coast of Norway to the Spanish Basque country. But once there, the command was clarified: it was necessary to represent the coasts of the north-west of France, thus specifying the objectives of the operation Overlord. For obvious security reasons, the two workers were put under house arrest at Southwich House until the operation was launched on 6 June 1944.