Musée D-Day Omaha
D-Day and battle of Normandy museums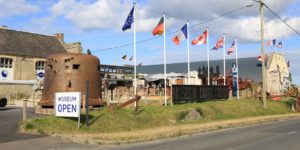 The D-Day Omaha Museum (located a few hundred meters from Omaha Beach) opened in 1999, exhibiting the personal collection of Michel Brissard, fascinated by the history of the Normandy landings for more than fifty years. The building which today houses the uniforms, armaments and other vestiges of the fighting of June 6, 1944 during the assault on Omaha Beach, was initially installed by the Americans in the immediate vicinity of the beach of Vierville-sur-Mer: used as a field hospital, it then served as a communal village hall after the war.
This private museum now houses a large number of military objects and vehicles, staged in a condensed history full of fascinating details. The visit is not limited to the interior of the building: the collector's items as well as the footbridges of the artificial port of Omaha are visible outside, also worth stopping there to better understand the unfolding of the Normandy landings.
Contact
Address: Route de Grandcamp, F-14710 Vierville-sur-Mer
Phone: +33 (0)2 31 21 71 80
Website: Musée D-Day Omaha
Access
Car park:
– Places for coaches near the museum.
– Places for light vehicles near the museum.
DDay-Overlord.com – Reproduction subject to authorization of the author –
Contact