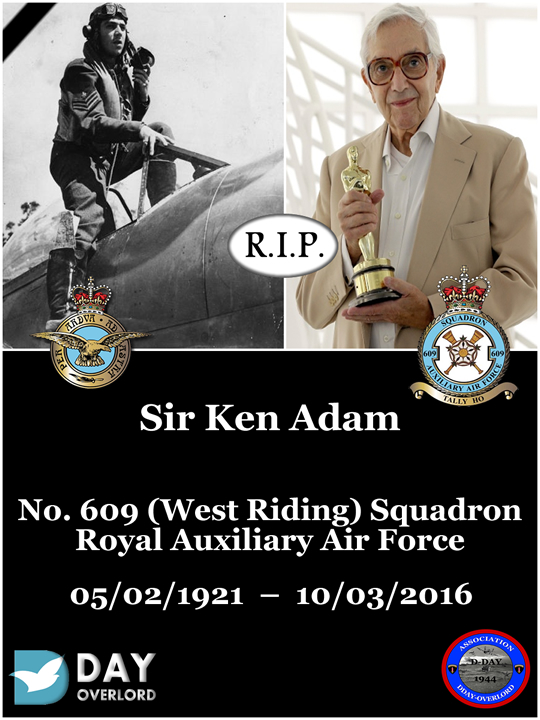 RIP Sir Ken Adam | 1921-2016
No. 609 (West Riding) Squadron
Royal Auxiliary Air Force
Ken Adam was born February 5, 1921 in Berlin, Germany. Because of his Jewish origins, his father is arrested by the SS but is eventually released. In 1934, his family left the totalitarian regime of Hitler and moved to Britain: Ken was then 13 years old. When World War II breaks out, Ken sends his request to join the Royal Air Force to become a pilot. After several refusals from the British military authorities, he finally managed to be enlisted and then began his training in Scotland, which continues in Canada and the United States.
Flying a Hawker Typhoon in No. 609 (West Riding) Squadron from 1 October 1943, he participated in escort missions of British and American bombers before supporting troops on the ground during the Battle of Normandy (during the bombing of the Falaise Pocket).
After the war, Ken Adam began his career in the film industry as a draftsman and assistant decorator. In 1962, his career took a turn with his contract for the first James Bond scenographer in history, "Dr. No". Six other films by the famous secret agent will follow, giving Ken the opportunity to imagine all the sets that have entered the history of cinema. In 1964, he supervised the sets of Stanley Kubrick's film "Dr. Strangelove" and "Barry Lindon" in 1975. He received two Oscars to reward his work.