ALG A-10 – Carentan
Battle of Normandy
This page presents the history of ALG (Advanced Landing Groud) A-10, used by the 9th United States Air Force during the Battle of Normandy.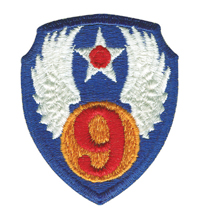 9th United States Air Force
Localisation: Carentan, Manche (50)
Code: A-10
Coordinates: 49°23'28"N – 000°57'43"W
Construction: from June 14 to 26, 1944 by the 826th Engineer Aviation Battalion (EAB)
Operational period: from June 26 to November 4, 1944
Length: 1 524 m (5 000 feet)
Width: 36,57 m (120 feet)
Azimuth: 81°
Airstrip: Square-Mesh Track (SMT)
Units:
– 50th Fighter Group (10th Fighter Squadron, 81st Fighter Squadron, 313rd Figther Squadron) using P-47 Thunderbolt.
– 367th Fighter Group (392nd Fighter Squadron) using P-38 Lightning.
ALG A-10 history:
The ALG A-10 is located three kilometers east of Carentan on the territory of the commune of Catz, near the place called La Fourchette, marking the junction between the national road 13 (Paris-Cherbourg) and the road 174 (Vire-Cherbourg).
If the runway is not fully completed until June 26, 1944, aircraft land there as of June 19.
Remains:
– Commemorative stele south of Banville at the edge of Departmental Road 89 (rue de Banville).
DDay-Overlord.com – Reproduction subject to authorization of the author –
Contact