Lockheed P-38 Lightning
History, technical sheet and photo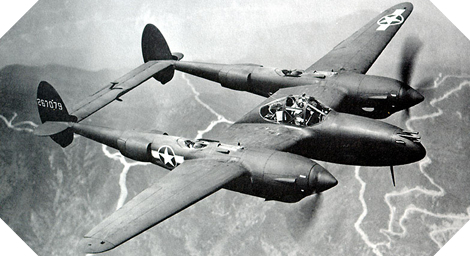 P-38 Lightning history

In 1937, the US Air Force wanted to acquire increased firepower, both in terms of ground bombing and support. It also looks for a device capable of evolving at high altitude.
The American firm Lockheed then puts in play a very large sum (nearly 6 million Dollars) to simply start the study of the project and receives the support of the US military.
Lockheed developed an interceptor bomber fighter and the first prototype was manufactured in 1939. Powerfully armed and able to carry nearly 2,000 kilos of bombs, this fighter has the distinction of being the first twin-engine and dual-gun fighter.
The P-38 Lightning has a large range of action, allowing it to perform deep raids, but it is still less manageable than conventional hunters.
Numerous versions of the P-38 Lightning were made throughout the Second World War, including reconnaissance aircraft (equipped with cameras in place of armament) and reconnaissance aircraft.
P-38 Lightning L specification

Creator/User: United States of America
Denomination: Lockheed P-38 Lightning L
Number built (P-38 Lightning): 10,037

Length: 11,53 m
Wingspan: 15,85 m
Height: 2,99 m
Unloade weight: 5,806 kg
Maximum speed: 666 km/h
Operational range: 3,637 km
Ceiling: 13,411 m
Armament: one 20 mm M2(C) Hispano gun, four 12,7 mm M2 Browning machine guns, carrying capacity of ten 127 mm HVARs (High Velocity Aircraft Rockets) or 2000 kg of bombs
Engine: two Allison V-1710-111/113 V-12 piston engine, 1,600 hp (1,193 kW) WEP at 60 inHg, 3,000 rpm each
DDay-Overlord.com – Reproduction subject to authorization of the author –
Contact