ALG A-23 C – Querqueville
Battle of Normandy
This page presents the history of ALG (Advanced Landing Groud) A-23 C, used by the 9th United States Air Force during the Battle of Normandy.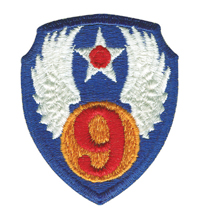 9th United States Air Force
Location: Querqueville, Manche (50)
Code: A-23 C ("Cargo")
Coordinates: 49°40'09"N – 01°41'38"W
Construction: from June 30 to July 6, 1944 by the 850th Engineer Aviation Battalion (EAB)
Operational period: from July 6, 1944 to August 5, 1945
Airstrip: Pierced Steel Plank (PSP)
Length: 1 402 m (4 600 feet)
Width: 36,57 m (120 feet)
Azimuth: 103°
Units:
– 441st Troop Carrier Group (99th Troop Carrier Squadron, 100th Troop Carrier Squadron, 301st Troop Carrier Squadron, 302nd Troop Carrier Squadron)
ALG A-23 C history:
Originally, the Querqueville aerodrome was built by the French army in favor of the training of its naval air forces. The Germans deploy there in May 1940 as part of the Battle of Britain with the Jagdgeschwader 2 (JG 2) "Richthofen". The Allied Air Forces then try to bomb this aerodrome several times.
During the Battle of Normandy, the Germans destroy the facilities and trap access with many mines. At the time of the liberation of Querqueville, the sappers begin demining and development of the airstrip coded A-23 C ("C" for Cargo, thus making reference to its vocation of receiving transport apparatus) . The original track is extended by 500 meters to 4,600 feet (4,600 meters) and is covered with Pierced Steel Plank (PSP). The French Navy uses post-war facilities until 1948.
Today, the French army has installed the Fourrier School on the former site of the ALG A-23 C.
DDay-Overlord.com – Reproduction subject to authorization of the author –
Contact