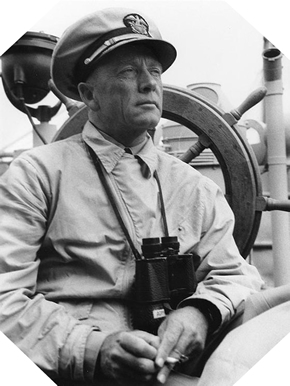 Alan G. Kirk
Biography
Alan Goodrich Kirk was born in Philadelphia, Pennsylvania, on October 30, 1888.
He joined the US Naval Academy in 1909 and served in the Navy during the First World War.
In 1939, when a new world war broke out in Europe, he served as a military attache in London. In March 1941, a few months before the Japanese attack at Pearl Harbor, he became the Director of the Office of Naval Intelligence (Office of Naval Intelligence) before applying to serve in a naval detachment in the Atlantic.
Alan Kirk is at the head of amphibious operations in the Mediterranean from 1942 to 1943 (in Sicily and Italy in particular). There he learns solid lessons that allow him to take command in 1944 of the Western Task Force, the American maritime area of ​​responsibility under Operation Neptune, this A vast amphibious maneuver aimed at crossing the Channel with Allied forces.
Embarked aboard the cruiser U.S.S. Augusta (CA-31), he attends the landing of Normandy and commands his units throughout the duration of the Normandy campaign. Kirk remains the commander of US naval forces deployed in France's maritime area until 1945.
In 1946, Alan Kirk left the army before starting a diplomatic career until 1963. During this period, he was appointed to numerous American embassies abroad: in Belgium, Luxembourg, the Soviet Union and finally in Vietnam.
In 1952, he was briefly appointed head of the Psychological Strategy Board.
He died on October 15, 1963 at the age of 75 in Washington and is buried in Arlington National Cemetery.

Back to US Military biographies menu
DDay-Overlord.com – Reproduction subject to authorization of the author –
Contact