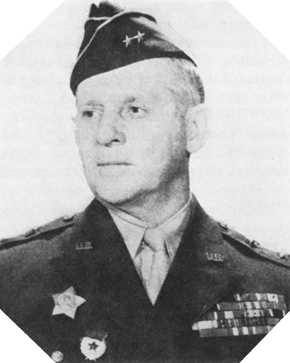 Clarence R. Huebner
Biography
Clarence Ralph Huebner was born in Bushton on November 24, 1888 in Kansas.
Coming from a peasant family, he enlisted as a private soldier in the army, serving in the 18th Infantry Regiment for nearly seven years.
He was a sergeant at the beginning of the First World War and was regularly promoted until November 1918: on the battlefields in France (he participated in the fighting of Soissons, Saint-Mihiel and the Meuse-Argonne) he led a company, a battalion, and then a regiment of the 1st Infantry Division. For his actions, he has earned prestigious decorations, especially two D.S.C. (Distinguished Service Cross), a D.S.M. (Distinguished Service Medal) and a Silver Star.
After the war he married Florence Barret and presented the staff school competition at Fort Leavenworth in 1924. He served there as a professor from 1929 to 1933.
In 1943, General Bradley gave Clarence Huebner the difficult task of commanding the 1st Infantry Division after General Terry Allen, who was particularly appreciated. The soldiers who had been fighting the German forces since 1942 appreciated his style of command. But Huebner gets down to work and quickly takes over the division he knows well.
Its division spearheaded the landing at Omaha Beach on 6 June 1944 and then took part in the Normandy campaign, particularly in the area of ​​the town of Saint-Lô, which it freed after furious and costly fights. In August 1944, Huebner and his men rejected Mortain's German counter-attack before continuing the offensive towards Germany: they took part in the battles of Aachen and the forest of Huertgen.
In January 1945, Clarence Huebner took command of the fifth corps which he led from the Rhine to the Elbe where he made the junction with the Soviet troops.
He was appointed military governor of the American sector in Germany from May 15, 1949 to September 1, 1949 (of which he assured the last permanence), and left the army in 1950. The following year, on 1 September 1951, York State's Civil Defense Commission, until January 1961. His wife Florence died in 1966 and married Anna Imelda Mathews two years later.
Clarence Huebner died on September 23, 1972 at the age of 83 and is buried in the Arlington National Cemetery.

Back to US Military biographies menu
DDay-Overlord.com – Reproduction subject to authorization of the author –
Contact