Airan (Calvados)
The cities of Normandy during the 1944 battles
Liberation: August 16, 1944
Deployed units:

Hallamshire Battalion, 146th Infantry Brigade, 49th Infantry Div., 1st Canadian Army

4th Royal Battalion Lincolnshire, 146th Infantry Brigade, 49th Infantry Div., 1st Canadian Army

7. Armee
History:
It was in the locality of Airan that on the night of April 16, 1942, the derailment of a German train occurred following action by French resistance: it was the most deadly sabotage operation For the German army during the occupation.
On August 14, 1944, the Anglo-Canadians launched operation Tractable which aims to close the encircling pocket trapping the Germans on their way to Falaise. On August 15, the Hallamshire Regiment of the 146th Infantry Brigade (belonging to the 1st Canadian Army's 49th Infantry Division West Riding) is stationed south of the Caen Plain, The communes of Airan and Billy, at the gates of the Pays d'Auge. This regiment, positioned west of the Tractable operation, is commanded by Lieutenant-Colonel Trevort Hart-Lyke.
On the same day, Hart-Lyke received orders to seize these two localities. At first, the British seize Billy without fighting: the town is completely abandoned by the adversary. At the same time, a section of the company C equipped with tracked vehicles Carrier progresses towards Airan from the north but it is under the fire of the Germans. Elements of company D reach the village but they can not advance further, the stone bridge having been destroyed by the Germans.
Before nightfall, the British decided to retreat and prepare a new assault for the next day in coordination with the Scots who operate west on their right flank. The 4th Royal Lincolnshire Battalion is also engaged in the battle.
The Germans, expecting an artillery fire on their position at dawn, evacuated Airan during the night and retreated into farm buildings north of the Ruel. The British take the attack at dawn and Company C seizes without too much difficulty from Airan. But their opponents, entrenched in positions situated in height to the north, apply a heavy fire and fix the English. Fierce fighting ensued for the conquest of Hill 57 north of the Ruel: the 4th Royal Lincolnshire Battalion took hold of it, supported by English tanks.
Overflowing, the Germans retreated north towards the Pédouzes.
Airan maps: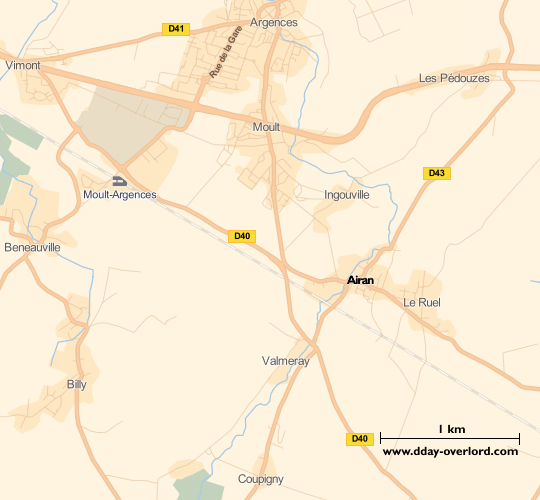 Back to the Normandy cities in 1944
DDay-Overlord.com – Reproduction subject to authorization of the author –
Contact