Jimmie W. Monteith
Medal of Honor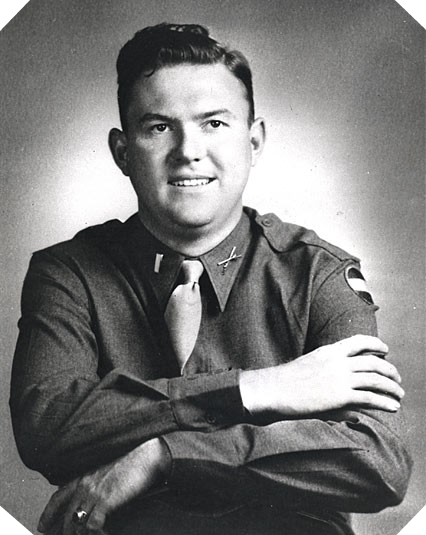 Jimmie W. Monteith was born July 1, 1917 in Low Moor, Virginia (USA). He joined the army in October 1941 and was promoted to 2nd lieutenant in March 1942. In April 1943, he was transferred to the 1st Infantry Division and participated in the campaign of Algeria and Sicily in July 1943, during which time he is promoted to 1st lieutenant. Transferred with the rest of the division in Britain to prepare for Operation Overlord, he is platoon commander at L Company of the 16th Infantry Regiment. On June 6, 1944, he landed on Omaha Beach (Fox Red area) where the fighting is particularly deadly.
Several times in the morning, Jimmie Monteith exposes himself to enemy fire to guide his men and inspire them with confidence; he crosses the beach in one direction then the other to guide the soldiers of his section and his company towards a rallying point, without worrying about his own safety. With these personnel, he storms the immediate surroundings of the beach and seizes the thin strip of land at the foot of a slope leading to the plateau.
Always exposed to the enemy's shots, he then guided a tank through the area he had just captured to find a favorable support position. He then returns to the beach through the machine gun fire and mortar shells and guides a second tank to give him this time again a support position. These tanks, thanks to his help, cross minefields without incident and begin to support their fire the landing in the sector, thus participating in the destruction of several enemy positions within minutes.
Shortly after 8 am, he was ordered by his unit commander, Captain John Armellino, to climb the slope in front of them and seize a German fortified point, coded Wn 61 by the Germans. Lieutenant Monteith, at the head of the company, reached the valley of the Revolution and then went west to storm the opposing casemates with his section, exposing himself again to lead and guide his men.
From this advantageous position where he makes several prisoners, he assures the defense of the fulcrum against several German attacks. Distributing his men on a front of about 250 meters, he regularly moves from station to post to ensure the good performance of his line of defense. The Germans manage to encircle the position of Monteith who holds fast despite the firing of small arms and mortar shells.
As he moves once again uncovered to guide the shots of his men, he is mown down by an enemy burst. He was 26 years old.
Captain Armellino, wounded during the fighting, learns the sad news. After the landing, Armellino made a recommendation for Lieutenant Monteith to be posthumously decorated with the highest US military honor, the Medal of Honor.
Jimmie W. Monteith is buried at Colleville-sur-Mer American Military Cemetery.
DDay-Overlord.com – Reproduction subject to authorization of the author –
Contact