Isigny-sur-Mer (Calvados)
The cities of Normandy during the 1944 battles
Liberation: June 9, 1944
Deployed units:

175th Infantry Regiment, 29th Infantry Division

747th Tank Battalion

Ost-Bataillon 439, 352. Infanterie-Division

Grenadier-Regiment 915, 352. Infanterie-Division
History:
In the spring of 1944, the commune of Isigny-sur-Mer was occupied by Ukrainian soldiers wearing the German uniform and belonging to Ost-Battalion 439 (352. Infantry Division) commanded by the Hauptmann (captain) Hans Becker. The city was bombarded twice on June 8 in preparation for the assault by the American infantrymen: many houses are in ruins, others are burning. In total, Isigny-sur-Mer is destroyed at 60%.
On June 9, 1944, at 2 am, the 3rd Battalion of the 175th Infantry Regiment (29th Infantry Division) commanded by Lieutenant-Colonel Edward A. Gill was within a kilometer of the town. far. Tanks of the 747th Tank Battalion advance in front and enter a few minutes later in the city, followed by infantrymen. Although disorganized, the Germans have left many snipers in the buildings that delay adverse recognition carried out after house after 5 hours. At 8 o'clock they launched a limited counter-attack to repel the Americans outside the commune but it was a failure: the soldiers of the 3rd battalion held fast and managed to stop this offensive without having to withdraw.
While Captain John T. King III's company K proceeded towards the west in order to recognize the practicability of the bridge over the Vire, 200 Germans of all arms and armies were made prisoners in Isigny-sur-Mer.
On 14 June, as part of his flash visit to Calvados, General de Gaulle stopped for a few minutes in the still-ruined city center to deliver a speech that had become famous: "I am very pleased to see the I know the sufferings that have passed through Isigny, the sufferings that every part of France will have to pass before reaching liberation, but I know, like you, that this trial will not be I want you, with me, to have a feeling of hope in your heart, and that you should sing the Marseillaise. "
Isigny-sur-Mer maps: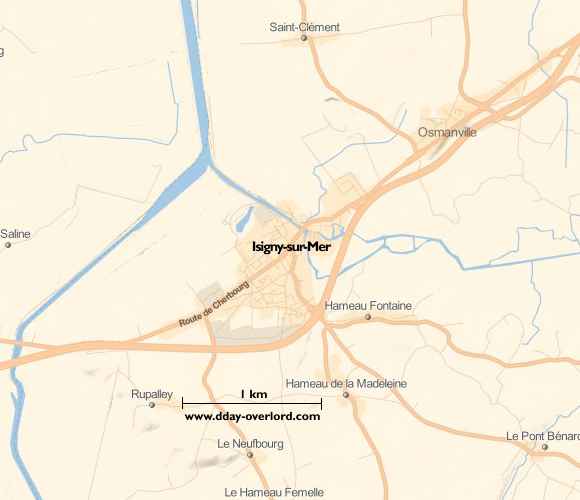 Back to the Normandy cities in 1944