Quettehou (Manche)
The cities of Normandy during the 1944 battles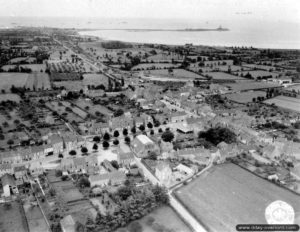 Aerial view of Quettehou, oriented towards the southeast. The Vauban Tower is visible in the background.
Photo: US National Archives
Liberation: June 20th, 1944
Deployed units:

24th Cavalry Reconnaissance Squadron, 4th Reconnaissance unit, 4th Infantry Division

709. Infanterie-Division
History:
The town of Quettehou is located in the immediate vicinity of Saint-Vaast-la-Hougue and is a point of passage for US troops heading north-east Cotentin, towards the Val-de-Saire. The village is held by disparate German troops, belonging to the 709. Infanterie-Division, until June 19, 1944: they were ordered to retreat to a new line of defense at Cherbourg and abandon their position as soon as possible. nightfall.
To take the Germans speed and prevent them from reorganizing, the Americans launch new reconnaissance as early as June 20, 1944. The 4th Infantry Division, which progresses on the right flank of American troops in the Cotentin, orders the 24th Cavalry Squadron recognition to overtake the Sinope River. Captain Brooks Norman, commander of Troop A, reached the Sinope bridge at 22:00 near the place called Foyel, on the Valognes-Quettehou road. A German soldier is taken prisoner and the Americans are trying to remove from the bridge the explosives that had been installed to destroy the structure. Troop A then continues its reconnaissance until Quettehou which is reached at 23:00. Americans settle there for the night.
Simultaneously, in the second echelon, the Troop C (reinforced by a platoon of Troop E) progresses along the coastal road linking Fontenay-sur-Mer to Quettehou. Because of the presence of mines and craters on the axis, the unit is delayed and can restart its action that the next day: June 21 at 11:00, it crosses Quettehou in turn and continues towards Barfleur. Troop A is moving towards Le Vast.
Map of Quettehou:

  Back to the Normandy cities in 1944
DDay-Overlord.com – Reproduction subject to authorization of the author –
Contact