Gooseberries and Blockships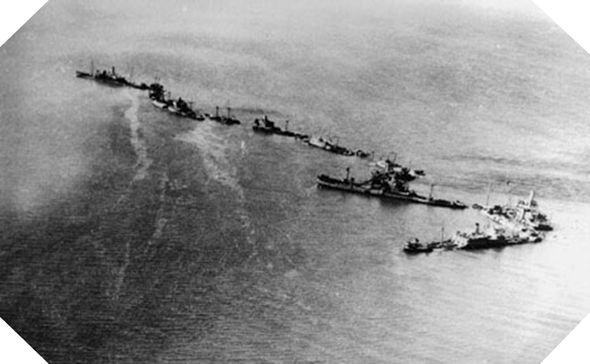 Goosberry 1 off Utah Beach
Photo: US National Archives
A gooseberry is the codename given by the Allies to a network of breakwaters disposed along the Norman shore during the summer of 1944.
The breakwaters include old transport ships and warships of allied countries (called blockships or Corn cobs), crossing the English Channel by their own means or having been towed.
Having previously been weighed with concrete, the Blockships then have scuttled to the intended place and thus formed an artificial breakwater nicknamed gosseberry, their hull protruding by about two meters the surface of the water at high tide.
These breakwaters have the effect of reducing the effects of the current to facilitate the landing of human and material resources on the beaches.
The gooseberries made up the architecture of the Arromanches and Saint-Laurent-sur-Mer artificial harbors as well as in front of the landing beaches.
There were five gooseberries:
Gooseberry 3 (Gold Beach)
Gooseberry 4 (Juno Beach)
Gooseberry 5 (Sword Beach)
Consult the list of British breakwaters engaged off the landing beaches by clicking here.
DDay-Overlord.com – Reproduction soumise à l'autorisation de l'auteur –
Contact Webmaster