Donald G. Malarkey
Veterans of Easy Company, 506th PIR, 101st Airborne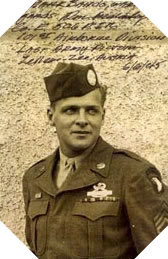 Donald G. Malarkey, on June 6, 1945 at Zell Em Zee, Austria
Donald G. Malarkey, born in Astoria, Oregon, USA, worked two years after graduating from High School and studied at the University of Oregon for one semester in late 1941.
After the Japanese attack on Pearl Harbor on December 7, 1941, he attempted to enter the Marines but had to give up because of dental problems.
He tries to enter the US Air Force but is also forced to give up because of poor mathematical results. He then plans to enlist in the airborne troops and is transferred to the Easy Company in July 1942 at Camp Toccoa where he specializes as a mortar shooter.
He participated in the airborne assault in Normandy in the early hours of 6 June 1944, as well as in Operation Market Garden in Holland and in the fighting for the liberation of Europe until the armistice on 8 May 1945 .
Don Malarkey wrote his memoirs published under the title Easy Company Soldier. He passed away on September 30, 2017.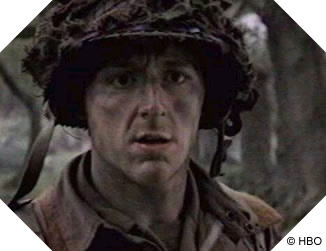 Actor Scott Grimes in Band of Brothers

Back to the Band of Brothers veterans menu