Frank Perconte
Veterans of Easy Company,  506th PIR, 101st Airborne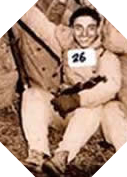 Frank Perconte grew up in the town of Jollet in Illinois (USA).
In 1942 he joined the airborne troops in Toccoa. He was one of the first soldiers to be assigned to the Easy Company.
Participating in most of the operations conducted by the Easy, he was wounded during the assault of the town of Foy in Belgium on 13 January 1945.
He died on 24 October 2013.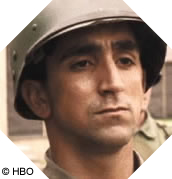 Actor James Madio in Band of Brothers

Back to the Band of Brothers veterans menu