Robert "Popeye" Wynn
Veterans of Easy Company,  506th PIR, 101st Airborne

Robert "Popeye" Wynn
Robert "Popeye" Wynn grew up in South Hill, Virginia (USA). He began working in the Norfolk Naval Yard after high school.
He joined the paratroopers in 1942 at the Toccoa grounds where he joined the Easy and completed his basic training.
Wynn was injured on 6 June 1944 in Normandy during the cannon attack near Manoir de Brécourt. "Popeye" Wynn found the Easy Company members just before the launch of the Market Garden operation in Holland.
He died in March 2000.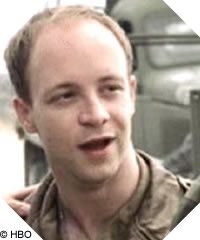 Actor Nicholas Aaron in Band of Brothers

Back to the Band of Brothers veterans menu