Ronald Speirs
Veterans of Easy Company,  506th PIR, 101st Airborne

Ronald Speirs was born in Edinburgh, Scotland and grew up in Portland, Maine, USA.
He performs military training during his schooling and the military authorities propose to him to engage in the infantry. But Ronald Speirs volunteers with the paratroopers of the Airborne.
He was a platoon leader of company D in Toccoa in 1942 and joined the Easy in Bastogne in December 1944.
He died on 11 April 2007.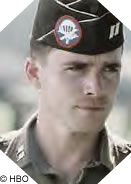 Actor Matthew Settle in Band of Brothers

Back to the Band of Brothers veterans menu