Thomas Meehann III
The true story of the men of the 506th PIR, 101st Airborne, Easy Company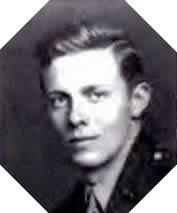 Thomas Meehan III was born on July 8, 1921 in Philadelphia, Pennsylvania. After his high school education in the Germantown neighborhood and having revealed excellent qualities as a rider, he moved towards a career as a plastic artist: indeed, his taste for drawing allowed him to start a Schooling at the Pennsylvania Museum and School of Industrial Art.
However, the outbreak of the Second World War decided otherwise. On March 16, 1941, he volunteered and joined the army. Serving initially in the Armored Cavalry Army, he does not bloom there and discovers like many other military the creation of airborne troops. Once again, he volunteered as a platoon leader for B Company of the 506th Parachute Infantry Regiment (PIR) of the 101st Airborne Division. He then took command of the E company (the famous Easy Company) before the beginning of the Neptune operation, the initial assault built into the Overlord operation.
On June 5, 1944, he boarded the Douglas C-47 numbered 66 and belonging to the serial 12. This aircraft carries 21 paratroopers as well as a cargo of bangalore torpedoes and is hit by German anti-aircraft fire: it attempted a landing, but crashed on June 6, 1944 at 1:12 am against a hedge near Beuzeville-au-Plain, just seconds before the drop. The pilots and paratroopers of the Easy Company die instantly. The fire caused by the crash is stopped by local residents and the burned carcass of the C-47 continued to smoke for several days. In the midst of the debris, the bodies of paratroopers and crew members were found, as well as the watch of Lieutenant Thomas Meehan, irretrievably stopped at 1 hour 12.
With no news from their company commander, members of the Easy Company served under Lieutenant Winters pending confirmation of Meehan's death. His body was then repatriated in 1952 to the United States and since then he rests at Jefferson Barracks National Cemetery, Missouri.

Back to Band of Brothers Veterans menu