Walter "Smokey" Gordon
Veterans of Easy Company,  506th PIR, 101st Airborne
Walter Gordon grew up in a middle-class family in Jackson, Mississippi, USA, and spent two years at Millsaps College before the Pearl Harbor events on December 7, 1941.
When he tries to enter the Army, Walter discovers he is colorblind. He is refused by the Marines and the Navy.
Walter Gordon then entered the US Army in Philadelphia, where he managed to pass through the color perception tests. He later volunteered in the airborne troops because he wanted to do a job surrounded by other volunteers like him.
He attended classes at Camp Toccoa.
He died on 12 May 1971.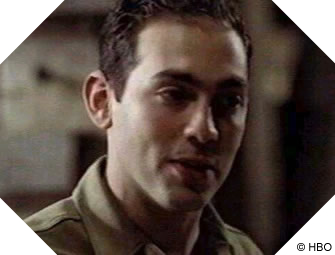 Actor Ben Caplan in Band of Brothers

Back to the Band of Brothers veterans menu