Ordnance ML 3-inch mortar (81,2 mm)
History, technical sheet and photo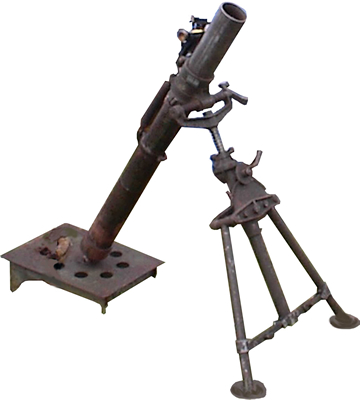 Ordnance ML 3-inch mortar history

The 3 zinch mortar (81.2 mm) entered service in the British Army in 1917. It was then renovated in the early 1930s, taking its inspiration from the French mortar of 81 mm model 27/31 to create to the 3-inch Mk II model. When the Second World War broke out in Europe, it equiped all the regiments of the British army. Reliable and simple to use, it comes in three transportable man-back packs: an all-round base plate, a bipod and a smooth core tube.
The first commitments of the 3-inch mortar on the western front show that it does not have the same scope as its German counterpart, the 8 cm GrW 34, which reaches 2,400 meters. British engineers improved this mortar in 1942 to make it fire new shells with propellant charges installed on the jibe which increase the range up to 2,560 meters. This new version is called "Mk II LR" (for long range) and has been improved during the year 1943.
The 81.2 mm mortar is used by British troops on all battlefields of the Second World War and especially during the Normandy campaign. It remained in service in the English army until the arrival of its replacement, the L16A1 81 mm mortar.
Ordnance ML 3-inch mortar specification

Creator/User: Britain
Denomination: Mk II ML 3-inch Mortar
Calibre : 81,2 mm
Maximum firing range: 1,463 m
Total weight: 50,8 kg
Barrel length: 130 cm
Muzzle speed: 198 m/s
Traverse: 360°
Elevation: + 45° à + 90°