Boeing B-17 Flying Fortress
History, technical sheet and photo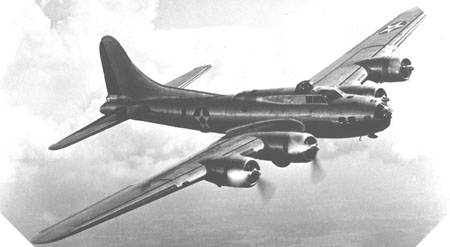 Boeing B-17 Flying Fortress history

To replace the aging US bomber Keystone, military engineers are developing a four-engine heavy bomber. The first prototype took off in July 1935. The production began a few years later, but the lack of credits was so great that only thirty aircraft were operational in 1939 at the beginning of the Second World War in Europe.
A few copies are delivered to the Royal Air Force, and it is on the European front that the B-17 carries out its baptism of fire. Its formidable radius of action allows it to bombard remote targets, but the hunters can no longer escort it; Weakly armed, he is then at the mercy of enemy fighter planes.
To overcome this and other navigational difficulties, various versions of the B-17 are manufactured. The final model, B-17G, was designed in September 1943. It is armed with thirteen machine guns: at the rear of the aircraft, at the front, on the flanks, above and below. Thus the bomber gets its nickname of "Flying Fortress".
Used on the Pacific fronts, in Europe and North Africa, the B-17s participate in all the major raids of the Second World War. Many aircraft participated in the Battle of Normandy in the summer of 1944. Different versions were produced as models for maritime patrols and anti-submarine warfare.
At the end of the war, nearly 12,700 copies of the Boeing B-17 Flying Fortress were manufactured. This is undoubtedly one of the most famous bombers of the entire Second World War.
Boeing B-17 Flying Fortress specification

Creator/User: United States of America
Denomination: Boeing B-17 G Flying Fortress
Number built (1936-1945): 12,731
Length: 22,80 m
Wingspan: 31,80 m
Height: 5,80 m
Unloaded weight: 14,842 kg
Maximum speed: 483 km/h
Operational range: 2,980 km
Ceiling: 10,670 m
Armament: thirteen 12,7 mm Browning machine guns
Transport capacity : 7,985 kg of bombs
Crew: 10 (pilot, co-pilot, navigator, bombardier/nose gunner, flight engineer/top turret gunner, radio operator, 2 waist gunners, ball turret gunner, tail gunner)
Powerplant: four Wright R-1820-97 "Cyclone" turbosupercharged radial engines, 1,200 hp (895 kW) each
DDay-Overlord.com – Reproduction subject to authorization of the author –
Contact