Hawker Hurricane Mk IIb
History, technical sheet and photo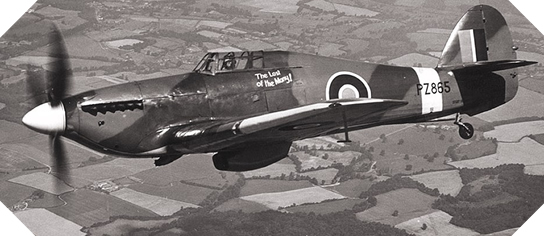 Hawker Hurricane history

Beginning in 1934, British military engineers worked on a new aircraft known as "Furry". This new fighter quickly appeared as an efficient aircraft and received the support of the English Ministry of the Air Force.
In 1935, the first prototype was manufactured and production began immediately after conclusive tests. In 1940, the Battle of Britain begins and the now surnamed "Hurricane" (hurricane) appears as an excellent hunter. Many German bombers are shot down by this aircraft, which is also very resistant to impacts caused by fighting.
Beginning in 1942, military engineers decided to develop other more modern versions of the Hurricane, such as the Hurricane Mk IV model, as the performance of the original model was gradually overtaken by new aircraft such as the Spitifire.
14,533 Hawker Hurricane fighter aircraft were manufactured throughout the Second World War, and many participated in air operations during the Battle of Normandy from June 5 to August 29, 1944.
Hawker Hurricane Mk IIb specification

Creator/User: Britain
Denomination: Hawker Hurricane Mk IIb
Length: 9,85 m
Wingspan: 12,19 m
Height: 3,99 m
Unloaded weight: 2 558 kg
Maximum speed: 546 km/h
Operational range: 756 km
Ceiling: 10 973 m
Armament: twelve 7,7 mm Browning machine guns, carrying capacity of height rockets  and two 110 kg bombs
Engine: Rolls-Royce Merlin XX liquid-cooled V-12, 1,185 hp (883 kW) at 21,000 ft (6,400 m)
DDay-Overlord.com – Reproduction subject to authorization of the author –
Contact