Messerschmitt Bf 109 G
History, technical sheet and photo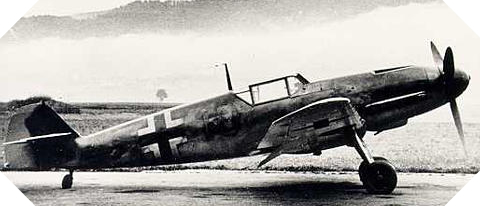 Messerschmitt Bf 109 G history

It was in the early 1930s, shortly before the Second World War, that the production of the German fighter called Bf 109, manufactured by the Bayerische Flugzeugwerke, began. Used during the Spanish Civil War, the first Bf 109 fighter aircraft were tasked with replacing the aging Heinkel He 51.
Many versions of the Messerschmitt Bf 109 are built, thus improving the performance of this device as the models progress. The Bf 109 E model participated in the Battle of Britain in 1940, during which time it had to escort the German bombers over Great Britain. But far too slow compared to the British Spitfire, a new model appeared at the end of 1940, the Bf 109 F.
One of the most successful models is the Bf 109 G. It is very manoeuvrable and relatively fast, and was manufactured in 1942. Although less powerful than the Focke Wulf Fw 190, the Messerschmitt Bf 109 G remains one of the Germans most produced during the Second World War. Czechoslovakia manufactures under license many models of this fighter which is also used by Spain until 1958.
Messerschmitt Bf 109 G-6 specification

Creator/User: Germany
Denomination: Messerschmitt Bf 109 G
Length: 8,84 m
Wingspan: 9,90 m
Height: 2,49 m
Weight: 3,095 kg
Maximum speed: 653 km/h
Operational range: 850 km
Ceiling: 12,000 m
Main armament: one 20 mm MG 151 gun
Secondary armament: two 7,19 mm machine guns
Engine: Daimler-Benz DB 605A-1 liquid-cooled inverted V12, 1,475 PS, 1,455 hp, 1,085 kW
DDay-Overlord.com – Reproduction subject to authorization of the author –
Contact