North American P-51 D Mustang
History, technical sheet and photo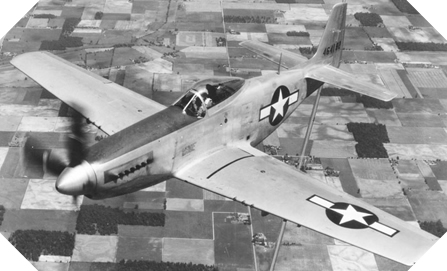 P-51 D Mustang history

In 1940, the British already bombed Germany. But the German Air Force (Luftwaffe) and the Flak (German anti-aircraft defense) destroy many bombers and the losses are extremely severe: for the Allies this situation must change as quickly as possible to carry out raids also during the day.
Thus, in 1940, North American received an order from the Royal Air Force, the British Air Force, which initially asked him to create a new training apparatus. The North American company quickly developed a high-performance fighter plane that encouraged the Americans to make it their main fighter, capable of escorting the Allied bombers to the maximum and defending them as efficiently as possible. Enemy aircraft, day and night. Its main asset lies in its range of action which is, at that time, extraordinary.
In 1940, the production of this apparatus began. This new fighter is fast, handy and very effective in the context of attacks of objectives on the ground and during aerial combat. This aircraft is named P-51 Mustang. Different models are created, the most manufactured remains however model D.
The P-51 Mustang is extremely dreadful in bombing ground targets and is extremely feared by the German armored divisions.
Today, nearly 150 P-51 Mustang still fly at meetings around the world, out of the 15,000 copies produced throughout the Second World War. It is a symbolic fighter aircraft of this historical period.
P-51 D Mustang specification

Creator: United States of America
Denomination: P-51 D Mustang
Length: 9,83 m
Wingspan: 11,28 m
Height: 3,71 m
Unloaded weight: 3,232 kg
Maximum speed: 700 km/h
Operational range: 1,530 km
Ceiling: 12,700 m
Armament: six 12.7 mm Browning AN-M2 machine guns, four MG 151 of 20 mm, locations for ten 127 mm rockets and the possibility of carrying 900 kg of bombs
Engine: Packard V-1650-7 liquid-cooled V-12, 2 stage intercooled supercharger, 1,490 hp (1,111 kW) at 3,000 rpm – 1,720 hp (1,282 kW) at WEP
DDay-Overlord.com – Reproduction subject to authorization of the author –
Contact