Vickers Supermarine Spitfire Mk IX
History, technical sheet and photo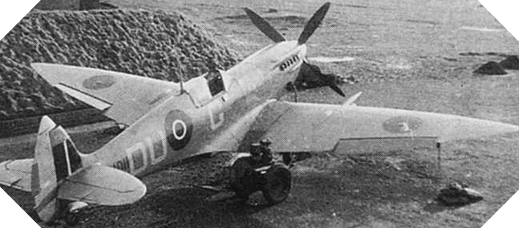 Supermarine Spitfire history

During the short period of peace preceding the Second World War, British military engineers developed a modern and powerfully armed fighter.
The first prototype of this aircraft was produced in 1938, and entered service during the Munich crisis the same year. Initially, pilots suffered claustrophobia in the reduced cockpit, and many people preferred to fly without closing it.
It was also one of the first aircraft to be equipped with retractable wheels, and initially the tests were punctuated by landing accidents, pilots forgetting to routinely set up the wheels.
It is then that begins the formation of the first pilots destined to fly to the controls of the Spitfires. 1160 aircraft were ordered in 1939 from Supermarine, and 1,000 from Nuffield.
As the years go by, many versions of the Spitfire are built, like the Seafire. 55 squadrons of Spitfire participated in the invasion of Normandy, from 5 to 7 June 1944, carrying out ground bombing missions, the enemy having only a very small number of fighter planes. General Rommel himself was wounded on 17 July 1944 during a spasmade attack by a Spitfire fighter.
The Spitfires, to which additional tanks of 380 liters had been added, also escorted heavy bombers allied with air raids in Germany, closely supporting their teammates against the German fighter.
After the Second World War, new versions were still produced, but production in Britain slowed sharply, while many aircraft were exported overseas, particularly in the Middle East, where Spitfires served until 1951.
Supermarine Spitfire specification

Creator/User: Britain
Denomination: Vickers Supermarine Spitfire Mk IX
Length: 9,46 m
Wingspan: 11,22 m
Height: 3,02 m
Weight: 4,310 kg
Maximum speed: 650 km/h
Operational range: 1,550 km
Ceiling: 11,300 m
Main armament: two 20 mm Hispano Mk II guns
Secondary armament: four 7,7 mm Browning machine guns, carrying capacity of one bomb of 113 kg
Engine: Rolls-Royce Merlin 63 V12 engine, 1,690 hp
DDay-Overlord.com – Reproduction subject to authorization of the author –
Contact