Hawker Tempest Mk V
History, technical sheet and photo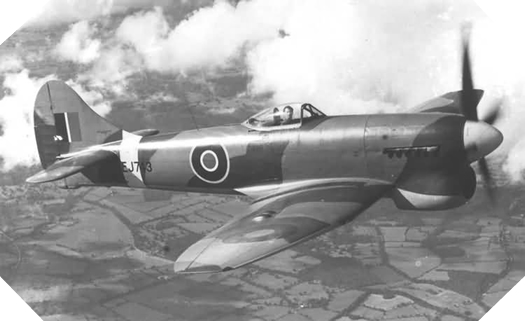 Hawker Tempest history

In 1940, the British Air Force wanted to improve the performance of the Typhoon fighter aircraft, especially at very high altitudes.
The main modification is that this device is equipped with wings in the shape of an elipse which make it possible to reach the desired speed at altitude.
In November 1941, the first model was manufactured: it was quickly called "Spitfire II", but changed its name in August 1942 to become the "Tempest". Its characteristics, however, remain relatively identical to the Vickers Supermarine Spitfire.
The maximum speed without WEP (War Emergency Power, methanol injection, ether and oil in the cylinder and carburetor) is between 703 and 713km/h. Its speed with WEP is 735 km/h at 15,000 feet.
There are unknowns about the power of the engine: it appears that in normal use, the engine reaches 2,600 horsepower. With WEP, the latter gets 400 more horsepower which means 3,000 horsepower.
During the invasion of Normandy, which began on June 5, 1944, the Hawker Tempest fighter planes were placed in reserve for the benefit of the Spitfires in the early days, but on June 8 the squadrons on alert were deployed over the Normandy.
Many Tempest also participate in the fight against the V-1 rockets. English fighters must shoot them before they reach their goal.
Throughout World War II, the Tempest are also used in ground attacks, and this fighter excels in this type of mission. In addition, it proves to be a very robust and resistant to enemy impact.
A few Hawker Tempest were deployed to the Middle East after the Second World War, until 1951.
Hawker Tempest specification

Creator/User: Britain
Denomination: Hawker Tempest Mk V
Length: 10,30 m
Wingspan: 12,50 m
Height: 4,90 m
Unloaded weight: 4,196 kg
Maximim speed: 700 km/h
Operational range: 2,462 km
Ceiling: 11,125 m
Armament: four 20 mm Hispano guns, carrying capacity of 8 rockets and 2 bombs of 454 kg
Engine: Napier Sabre II liquid-cooled H-24 sleeve-valve engine, 2,180 hp (1,625 kW)
DDay-Overlord.com – Reproduction subject to authorization of the author –
Contact