Hawker Typhoon "Tiffy"
History, technical sheet and photo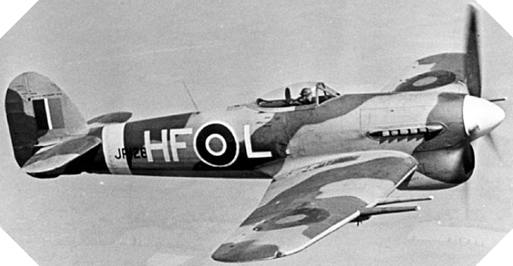 Hawker Typhoon history

In 1940, British military engineers wanted to develop a new version of the Vickers Supermarine Spitfire in order to provide the British air force with a low-performing fighter, unlike the Hawker Tempest, which had to excel at high altitudes.
Armed with four 20 mm guns, it is capable of carrying eight rockets, very feared by the tank crews and other enemy armored vehicles.
Designed in parallel with the Hawker Tornado, the Typhoon has identical features with this unit, except for the engine that changes from one model to another.
The Typhoon is an excellent fighter, and its formidable guns of 20 mm leave no chance to their opponents. 26 squadrons of Hawker Typhoon were deployed during the June 6, 1944 attack in Normandy.
During the Battle of Normandy, the Typhoon carried out terribly murderous raids in the German armored divisions: several hundred enemy tanks were reduced to ashes, offering remarkable support to the Allied ground forces, which hardly succeeded in repelling the tanks German tanks with their own tanks.
The Typhoon is clearly seen as an unrivaled but rather irregular attacking ground attacker, hence its reputation: "the rockeeter".
Hawker Typhoon Mk Ib specification

Creator/User: Britain
Denomination: Hawker Typhoon "Tiffy" Mk Ib
Length: 9,73 m
Wingspan: 12,67 m
Height: 4,66 m
Empty weight: 3,992 kg
Maximum speed: 664 km/h
Operational range: 821 km
Ceiling: 10,730 m
Armament: four 20 mm Hispano guns, height RP-3 unguided air-to-ground rockets and carrying capacity of two 227 kg bombs
Engine: Napier Sabre IIA, IIB or IIC liquid-cooled H-24 piston engine, 2,180, 2,200 or 2,260 hp (1,626, 1,640 or 1,685 kW)
DDay-Overlord.com – Reproduction subject to authorization of the author –
Contact