M18 Hellcat tank

History, technical sheet and photo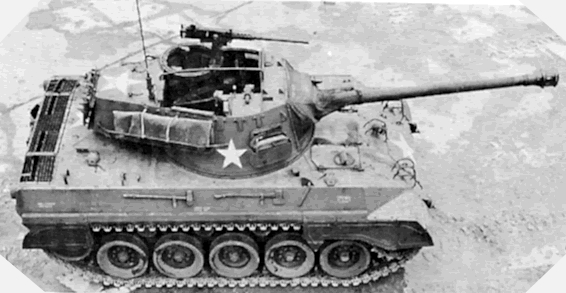 [/vc_column_text]
M18 Hellcat tank history

The German superiority in the field of tanks is of particular concern to the Allied forces seeking to equip themselves with no more tanks but with tanks whose use is limited to defensive or fixed action.
The Americans are racing to equip themselves with new tank fighters: their very heavy M10 Destroyer model is reinforced by a new craft, the study of which begins in December 1941; Tank light, fast, armed with a gun of 76 mm and which is denominated M18 "Hellcat" (literally the "cat of the hell").
After his production was launched in July 1943, he knew his baptism of fire in Anzio in Italy. The M18 Hellcat is also deployed during the Battle of Normandy (it participates notably in the breakthrough to Brittany) as well as during the Battle of the Ardennes, but also in the theaters of operations of the Pacific. His strengths are his mobility, both on and off-road, as well as the speed of rotation of his turret, which allows his German opponents to speed up.
Used after the Second World War in an improved version (M39), it takes part in the Korean War. In 1956, about one hundred of these tanks were delivered to the German Army, the Bundeswehr, for the training of its troops, while the Americans permanently removed them from their ranks the following year.
M18 Hellcat tank specification

Creator/User: United States of America
Denomination: M18 Hellcat
Number produced (1943-1944): 2,507
Length (with barrel): 6,68 m
Length(without barrel): 5,28 m
Width: 2,87 m
Height: 2,57 m
Weight: 17,700 kg
Maximum speed: 97 km/h
Operational Range: 168 km
Main armament: one M1A1 76 mm gun (45 rounds)
Secondary armament: one Browning M2 HB (12,7 mm) machine gun  (800 rounds)
Engine: Continental R975-C4, 400 hp (298 kW) at 2,400 rpm
Crew: 5 (commander, gunner, loader, driver, assistant driver)
Armor: from 5 to 25 mm
[/vc_column][/vc_row]

Back to the Battle of Normandy tanks
DDay-Overlord.com – Reproduction subject to authorization of the author –
Contact