Light Tank Mk VII Tetrarch
History, technical sheet and photo
Light Tank Mk VII Tetrarch history

Developed by Vickers-Armstrong, the first prototype of this lightweight tank (originally called "Purdah") was launched in 1937. Designed to carry out reconnaissance missions, its characteristics are deliberately reduced. The following year, he passed a battery of tests: with limited crossing capabilities and a low speed, he was not very successful with British soldiers looking for heavier armored vehicles.
Nevertheless, its production began in July 1940 to increase the ranks of the English light tanks. Delivered in November 1940, he made his baptism of fire during the campaign of France and was engaged in Operation Ironclad, the battle of Madagascar, on May 5, 1941: but the battle of France, the bombing of the factories by the Germans and the Choice of priority for the supply of British war material reduced the needs of this reconnaissance tank called Tetrarch on 22 September 1941.
Hardly out of the factory, this light tank is already considered by the military to be obsolete because it is insufficiently protected and unsuited to the various theaters of operations: its cooling system is not compatible with the battlefields of North Africa, The crew struggled to carry out all the tasks on board due to the small size of the chassis. It is, however, delivered to the Soviet Union under the loan-to-lease program.
However, the British find it particularly useful: employment in airborne units. It can indeed be carried on board the Hamilcar glider in order to reinforce the firepower of paratroopers and soldiers embarked in gliders. Squadron C of the Glider Pilot Regiment performs no fewer than 2,800 training flights during which only three accidents are recorded (causing the death of seven pilots). These air-transported tanks, modified for their glider flight (like the replacement of their 40 mm gun by a 7.62 mm machine gun), are called Tetrarch 1 CS (Close Support).
Tetrarch tanks were used during the Battle of Normandy during Operation Tonga among the 6th Airborne Division on 6 June 1944 at 9 pm, carried by the Hamilcar gliders. Unable to fight German tanks, they were employed in support of the infantry until August 1944 before being replaced by other allied tanks.
Withdrew from the front after their engagement in Normandy, the Tetrarchs were used for training in Great Britain until 1950.
Light Tank Mk VII Tetrarch specification
Creator: Britain
Users: Britain – Soviet Union
Denomination: Light Tank Mk VII A17
Length: 4,04 m
Width: 2,31 m
Height: 2,12 m
Weight: 7 600 kg
Maximum speed: 64 km/h
Operational range: 230 km
Main armament: one QF 2 pounder (40 mm) gun
Secondary armament: one 7.92 mm Besa machine gun
Engine: Meadows 12-cylinder petrol 165 hp (123 kW)
Crew: 3 (commander, gunner, driver)
Armour: 14 mm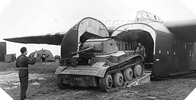 Disembarking a Tetrarch tank from a Hamilcar glider (Photo IWM)

Back to the Battle of Normandy tanks
DDay-Overlord.com – Reproduction subject to authorization of the author –
Contact