Stahlhelm M1935 – M1940 helmet
History, technical sheet and photo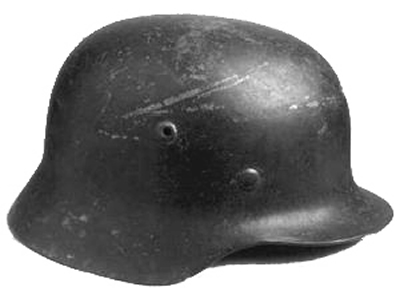 Stahlhelm M1935 helmet history

It was in 1935 that the production of the 1935 steel helmet (Stahlhelm in German) began, which was studied a year earlier and entirely inspired by the 1915 model, with modifications allowing better hearing and better vision.
Protecting the neck and sides of the skull, this helmet consists of a single piece of steel to facilitate its production: it is worn on an adjustable leather frame by means of laces and movable shutters. The three ventilation openings of the 1915 model are retained but their size is reduced. The 1935 model was introduced into the German armies as early as 1940.
Several models of helmets are created according to the needs of the user (including the M1938 modification for the airborne troops), but also according to the German industrial capacities: elements are progressively removed (such as hand-turned edges) in order to conserve raw material. Minor transformations are made with the 1940 models (ventilation holes directly pierced in the helmet shell), 1942 (removal of the turned edges) or 1945.
The Stahlhem M1935 quickly established itself as a symbol of German military power and was the subject of numerous presentations in newspapers and magazines of the time.
Many armies or police forces wear this helmet after the Second World War, such as Chile or Japan. Most of the contemporary military helmets were inspired by the form of the Stahlhelm.
Stahlhelm M1935 helmet specification

Creator/User: Germany
Denomination: Stahlhelm M1935
Total weight: 1,3 kg
Material: Chrome-nickel steel
Basic color: Gray matt
Modifications: Stahlhelm M1940 (ventilation holes directly drilled in the helmet shell) and M1942 (removal of the turned edges)