Stahlhelm M1938 helmet

History, technical sheet and photo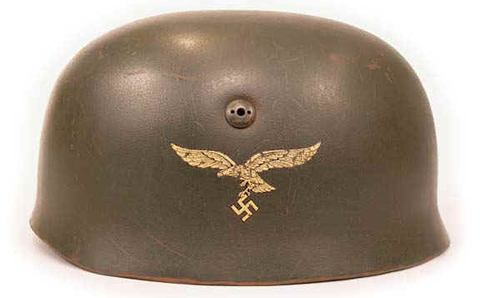 Stahlhelm M1938 helmet history

Following the modification of the 1935 helmet (Stahlhelm in German), entirely inspired by the 1915 model, a model for paratroopers was born in 1938.
Indeed, the specifications of the airborne units are different from those of conventional ground units: in order to protect the paratroopers against possible impacts with their helmets during the landing, the visor and the protective elements on the flanks and along the The neck are removed. This modification is also carried out with the aim of reducing the catch to the wind during the jump.
The skull is supported by an aluminum frame covered with leather, foam shock absorbers and a double leather chin strap with snaps.
The German paratroopers of Major Von Heydte in Carentan are mostly equipped with this helmet during the first weeks of the Battle of Normandy, although they are not themselves parachuted into combat.
Stahlhelm M1938 helmet specification

Creator/User: Germany
Denomination: Stahlhelm M1938
Total weight: 1,1 kg
Material: Chrome-nickel steel
Basic color: Gray matt