Bedford MWD truck

History, technical sheet and photo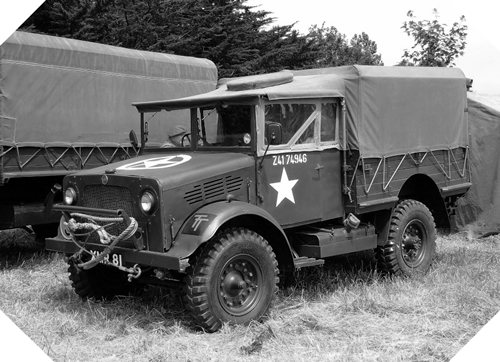 Bedford MWD truck history

The first Bedford light-duty vehicles produced in England by General Motors came out of the factory in 1931. Carrying a payload of about 750 kg, they were a great success thanks to unbeatable prices.
When World War II, production was again considered by taking the Morris-Commercial CS 8 civilian model of 1934 as a working basis, the updated Bedford GS (General Service) model was again produced in series of May 1939 in order to equip the British land forces: the model consists of a 4×2 chassis with a wooden cab and a wooden body, a powerful engine and a rather low overall silhouette whose hood is tilted t Increase the visibility of the driver.
Directly employed during the campaign of France where he knows his baptism of fire, it becomes the battle horse of the British army, equipping also the Royal Air Force. Its strengths are its engine and its excellent handling.
Beginning in 1943, the models are equipped with half-doors and a folding windscreen. The MWD Bedford is used by the British forces during the Battle of Normandy, in addition to other light vehicles, fulfilling all sorts of logistical missions.
Bedford MWD truck specification

Creator/User: Britain
Denomination: Bedford MWD GS Truck, 15-CWT, 4×2
Length: 4,38 m
Width: 1,99 m
Height: 1,93 m
Weight: 2,100 kg
Maximum speed: 80 km/h
Operational range: 430 km
Payload: 750 kg
Transport capacity: 10 equipped soldiers
Engine: Bedford 6-cylinder in-line, petrol and overhead valves, 3,519 cc, 72 hp