GMC DUKW 353
History, technical sheet and photo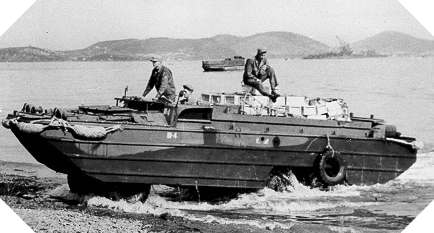 GMC DUKW 353 truck history

In 1942, the US Army, represented by the Commanding General, Service and Supply, appealed to the National Defense Research Committee to have an amphibious vehicle capable of traveling both at sea and on land.
With 6-wheel drive, the first prototype is manufactured by the General Motors Company. Immediately adopted by U.S. Army, the GMC DUKW 353 moves in water using a propeller.
This machine can carry a large amount of equipment (up to 2,368 kg) or 25 equipped soldiers. Very used during amphibious operations, and especially during the Normandy Landing, its maneuverability allows the DUKW to shuttle between the transport ships and the beach or even cross rivers.
Used in the Korean War, the DUKW 353 GMCs were much appreciated by American soldiers. The DUKW remained in service until the 1950s.
GMC DUKW 353 truck specification

Creator/User: United States of America
Denomination: GMC DUKW 353
Length: 9,45 m
Width: 2,10 m
Height: 2,44 m
Weight: 6,600 kg
Maximum speed in water: 10 km/h
Maximum speed on road: 80 km/h
Operational range in water: 80 km
Operational range on road: 385 km
Armament (optional): one 12,7 mm Browning machine gun
Transport capacity : 25 equipped soldiers or payload of 2,368 kg
Engine: GMC 270 6-cylinder, 4,417cc from 104 horsepower to 2,750 rpm