Humber Armoured Car Mk IV
History, technical sheet and photo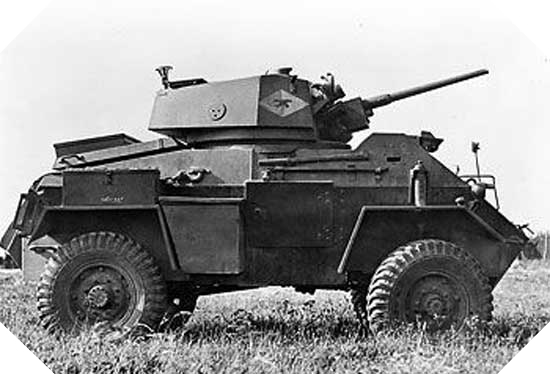 Historique du Humber Armoured Car
During the Second World War, the British sought to enrich their already large fleet of reconnaissance vehicles. They have produced a significant amount of light reconnaissance cars such as the Humber Scout Car, the Humber Light Armored Car or the Daimler Armored Car.
The English group Rootes embarks on the program and in 1942 produced a small, light, fast and armored 4×4 prototype. This new vehicle, built from the chassis of the Karrier KT4 tractor and the Guy manufacturer, is called Humber Armored Car and has a turret capable of accommodating a 15 mm Besa machine-gun. It equips cavalry regiments as well as infantry regiments.
The Humber Armored Car was used in combat beginning in 1941 and then participated in the Battle of Normandy during which it carried out multiple missions of reconnaissance and convoys of convoys.
From Mark I base model, several other versions are produced based on the needs of the military: the Mark II model sees the shielding improvement compared to the first version, the Mark II has a three-seater turret (1,650 units are built), while the 1943 Mark IV model is armed by a new 37 mm or 40 mm gun under turret and can receive a fourth crew member.
Canadians produce a vehicle identical to the Humber Mk III they call the "Fox". After the Second World War, Humber was used by several nations around the world, including Denmark, Mexico, the Netherlands and Portugal.
Humber Armoured Car specification

Creator: Britain
User: Britain, Canada (Fox)
Denomination: Humber Armoured Car Mk IV
Number built: 5,400
Length: 3,20 m
Width: 1,70 m
Height: 1,50 m
Weight: 7,100 kg
Maximum speed: 72 km/h
Operational range: 400 km
Main armament: one 37 mm M5/M6 gun or one 2 Pounder QF (40 mm)
Secondary armament : one 7,92 mm Besa machine gun
Engine: Rootes 6 cyl petrol engine 90 hp (67 kW)
Crew: 4 (commander, driver, gunner, radio operator)
Armor: up to 15 mm