Daimler Armoured Car Mk II
History, technical sheet and photo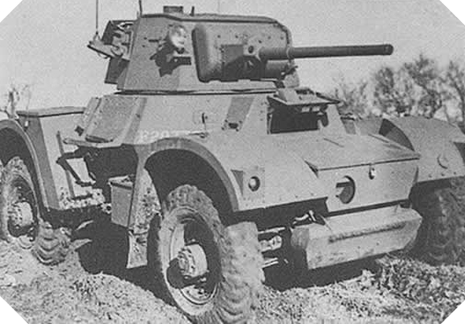 Daimler Armoured Car history

In parallel to the development of the Dingo light reconnaissance vehicle, Birmingham Small Arms (BSA) – bought shortly afterwards by Daimler – adapts the turret of the Vickers-Armstrong Tetrarch light tank to protect a 40 mm gun mounted on the improved Dingo chassis. Delivered late, starting in the spring of 1941, because of transmission problems (which are under the weight of the turret), this new armored vehicle is called Daimler Armored Car model Mk II.
Capable of accommodating three crew personnel, it improves the firepower of vehicles engaged in convoy reconnaissance and escort missions. Equipped with a new engine, it has the same mobility characteristics of the Daimler Dingo as the five speeds available in forward and reverse.
He made his baptism of fire in North Africa in the British regiments of 11th Hussars and Derbyshire Yeomanry. He was deployed in Normandy from June to August 1944 in the British and Canadian armies.
The Daimler Armored Cars were used in the British Army until the 1960s before being replaced by the Coventry Armored Cars.
Daimler Armoured Car specification

Creator: Britain
User: Britain, Canada
Denomination: Daimler Armoured Car Mk II
Number built: 2,694
Length: 3,20 m
Width: 1,70 m
Height: 1,50 m
Weight: 7,600 kg
Maximum speed: 88,5 km/h
Operational range: 320 km
Main armament: one 2 Pounder QF (40 mm) gun with 52 rounds
Secondary armament: two 7,92 mm Besa machine guns (2,700 rounds) and one 7,7 mm Bren light machine gun
Engine: Daimler 27 4.1 litre 6-cylinder petrol 95 hp (71 kW)
Crew: 2 (1 driver, 1 spotter)
Armor: up to 30 mm