Jeep Willys MB
History, technical sheet and photo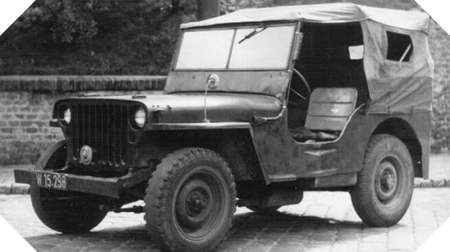 Jeep Willys MB 4×4 utility truck history

In 1940, the American army decided to acquire a light reconnaissance vehicle. It uses the American Bantam Car Company located in Pennsylvania (USA). The Willys and Ford industries also participate in prototype manufacturing, each on their own.
The model adopted by the US Army in October 1941 is the one produced by Willys and named MB. But once the United States entered the war after the Pearl Harbor episode in December 1941, the Army wanted to be supplied with reconnaissance vehicles by at least two different suppliers: it chose Ford, which produced the same vehicle manufactured by Willys But this time called by GPW.
Very quickly, this little reconnaissance vehicle is nicknamed "Jeep". The origin of this nickname would come from the oral contraction of the letters GP (for "General Purpose") which became "Jeep".
Quick and practical, this vehicle actually becomes the "handy car" of the US military. So we can see ambulances, troops transports, command car, etc… made up from the Jeep.
Used by a vast majority of armies in the world after the Second World War, the Jeep is one of the symbols of this international conflict.
Jeep Willys MB 4×4 utility truck specification
Creator/User: United States of America
Denomination: Jeep Willys MB
Number built: 650,000 (during World War 2)
Length: 3,36 m
Width: 1,58 m
Height: 1,77 m
Weight: 1,400 kg
Maximum speed: 105 km/h
Operational range: 380 km
Armament (optional): one 12,7 mm or 7,62 mm Browning machine gun
Engine: Willys Overland MB with 4 cylinders of 60 hp, 3,820 rpm (nicknamed "Willys Go Devil engine")

Back to the Battle of Normandy vehicles menu
DDay-Overlord.com – Reproduction subject to authorization of the author –
Contact