Volkswagen Kübelwagen 82
History, technical sheet and photo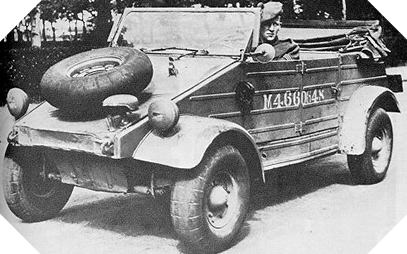 Volkswagen Kübelwagen 82 history

It was in 1936 that the project to adapt the civil Volkswagen 60 into a military vehicle, able to transport four people with their equipment. The first prototypes were produced in 1938 and the German army selected one of the models that attracted his attention.
Production began immediately, and the first one came into service in the German army in December 1939. This vehicle was officially named "Kübelsitz-wagen" model 82, but very quickly the German military nicknamed it Kübelwagen.
This vehicle immediately appears as a very resistant and robust car, capable of evolving on different terrains. Two other versions were produced from 1940: one capable of evolving in arid zones, the other in very cold areas. Nearly 55,000 copies of the Kübelwagen model 82 were built throughout the Second World War.
Various versions have also been manufactured, including model 155, transformed into half-track, model 163, shielded, and model 166 (Schwimmwagen), amphibious vehicle.

Volkswagen Kübelwagen 82 specification

Creator/User: Germany
Denomination: VW Kübelsitzwagen 82
Length: 3,74 m
Width: 1,60 m
Height: 1,60 m
Weight: 725 kg
Maximum speed: 80 km/h
Operational range: 383 km
Engine: Volkswagen of 4 cylinders, 985 cc. and 24 horsepower at 3,200 rpm
Transport capacity: 4 equipped soldiers