Welbike motorcycle

History, technical sheet and photo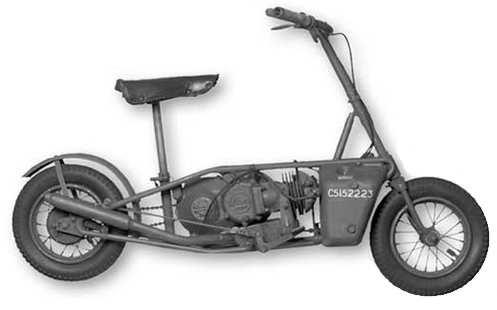 Welbike motorcycle history

With the development of the airborne forces, new equipment is designed to accompany these units operating in enemy territory and to enable them to accomplish in the best conditions their mission. It is for this purpose that British engineers are instructed to create a lightweight and functional parachutable motorcycle that increases the range and speed of airborne troops.
The idea of ​​an air-transportable motorcycle comes from Lieutenant-Colonel John Dolphin, commander of the British secret military research department based near the village of Welwyn in north London. Its objective is that this motorcycle can be placed in a conventional container parachutable 130 cm long, 35 cm high and 30 cm wide. A first prototype was produced and tested (including drops) in 1942 in Scotland.
The motorcycle is called Welbike (a contraction of the village of Welwyn and a bike meaning bicycle). The motorcycle is not designed to be comfortable but simply practical: the first version does not have suspensions, mudguards or fires. Comprises only one brake at the rear. After the container has been dropped, the airborne infantryman must put the Welbike in order before it can be used: he must identify his container (via the green parachute color and the inscription "Motor Cycle" on the container). Make his motorcycle operational (which takes about eleven seconds). Delivered from 1943 to the allied commandos by Excelsior Motor Company, the motorcycle is used in combat in Italy but also in Normandy as part of Operation Overlord.
The defects of the Welbike reside more in its container than in itself. Indeed, paratroopers do not systematically land in the same place as their motorcycle and must first find it before it can be used, if it has not been taken by the enemy. In addition, advances in gliders make the use of this bike unreliable, as other heavier and more practical engines can be transported directly with airborne troops.
Welbike motorcycle specification

Creator/User: Britain
Denomination: Welbike
Number built: 3,641
Weight: 32 kg
Maximum speed: 45 km/h
Operational range: 110 km
Engine: Villiers 98 cc (6.0 cu in), two stroke, single cylinder, air cooled
Transmission: single-speed