Courbet battleship

Index of Allied warships during Operation Neptune
History, technical sheet and photo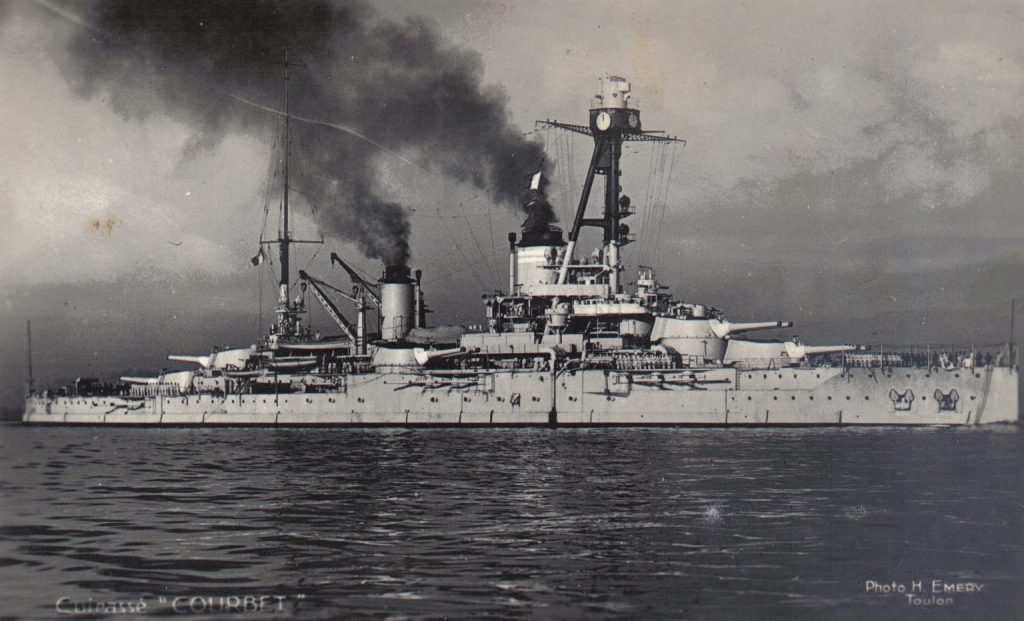 Courbet battleship history

The Courbet is the first of the three battleships equipping the French navy from 1913 (the other two being the Jean Bart and the Paris). Built in Lorient, it was immediately used during the First World War, participating in particular in the destruction of the Austrian-Hungarian cruiser Zenta in the Mediterranean Sea in August 1914. It also took part in the blockade of the Austro-Hungarian Navy in the Adriatic Sea.
During the interwar period, the Courbet was modernized several times, its weapons were replaced and improved. Working for the shooting school and then at the school of navigation in 1937, it was supposed to finish its career at the shooting school in 1939, but the outbreak of the Second World War decided otherwise. Deployed off Cherbourg, it was ordered to support the defenders of the city against the units of the 7th German Armored Division without success.
On June 20, 1940, the Courbet traveled to England to join the free French forces where it was used as an anti-aircraft building for the defense of Portsmouth. Disarmed on March 31, 1941, it crosses the Channel for the last time in June 1944, towed by the H.M.R.T. Growler and H.M.R.T. Samsonia, to be sunk on June 9 at 1:30 pm in front of Sword Beach. Used as a breakwater in one of the gooseberries (its engine block having been replaced beforehand by concrete), the wreck is surmounted by a French tricolor flag struck with the cross of Lorraine.
Its anti-aircraft turret remains active during the Battle of Normandy and opens fire on the Luftwaffe aircraft in this area, hampering the Germans who then seek to permanently eliminate this threat. The Courbet was struck by Neger torpedoes during the night of 15 to 16 August and the following night.
It was finally scrapped in the 1950s.
Courbet battleship technical sheet
Creator/User: France
Denomination: Courbet
Crew: 1,108 sailors
Armament (1944): 12x 305 mm guns, 22x 140 mm guns, 4x 47 mm guns, 4x 457 mm torpedo tubes
Displacement : 25,850 tons
Speed: 21 noeuds
Length: 168 m
Beam: 27,90 m
Draught: 9 m